♥

Homespun Holidays! 

♥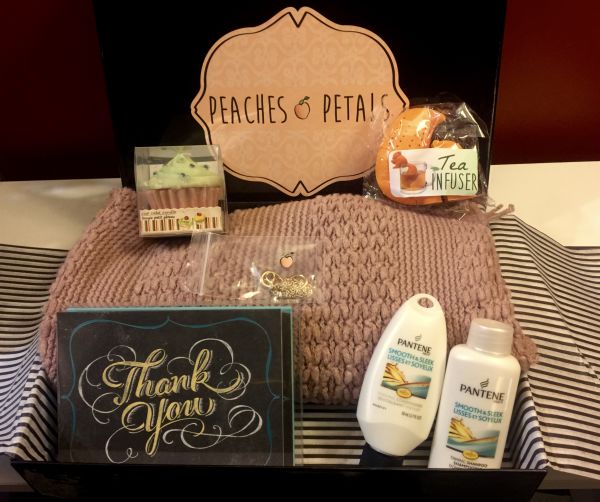 November 2015 Peaches & Petals Box
I absolutely jump for joy when I find a totally affordable subscription box to try! I love treating myself (don't we all?), but find it can be difficult to justify when there are so many expenses to factor in with raising a toddler and maintaining our home. Peaches & Petals has made it possible to receive a really fun box each month while not breaking the bank! This would make a really great holiday gift for the fabulous women in your life!
The cost for a monthly subscription is $14.99
(The subscription auto-renews each month. Cancellation is simple, so no worries if you are looking just to try it at first!)
50% OFF COUPON CODE:  HOMESPUNPEACH
Enter this code at check-out to save 50% off your first box!
Peaches & Petals loves our readers and is offering a chance for one of you to WIN your first month's box FREE! Be sure to enter our giveaway at the end of this review!
I just LOVE the presentation! The glossy black box looks so slick and will make a great gift box to reuse over the holidays! It really felt like I received a special gift and I couldn't wait to see what was inside!
Each month's box comes with a notecard detailing the items inside.
The Fringe Scarf – Value:  $15.00?
This was the guaranteed spoiler item for November's box! The scarf I received is a mauve / creamy pink color and is so soft! I especially love the knit pattern on the front! I am actually very glad to receive a new scarf, since my cats have pretty much destroyed the rest of my collection and it's cold outside!
Pantene Pro-V Travel Shampoo & Conditioner – Value:  $2.00
Call me spoiled, but I was a little bummed to see this shampoo + conditioner set in my box. I would've preferred to receive a brand I've never tried before that isn't readily available in most stores. Nevertheless, I do really like Pantene Pro-V (it works wonders in my thick, straight hair) and I am happy as a clam to add it to my travel kit!
Sweet Treat Dessert Candle (Cupcake) – Value:  $1.00?
We LOVE candles at here at our house… especially ones that have great scents! This little cupcake candle actually smells like cake and is super adorable. As tempting as it is to open and light it right away, this will make a perfect little stocking stuffer for one of my friends who is equally as obsessed with candles and sweet treats!
Thank You Cards (Set of 10) – Value:  $12.50
I love the color and style of these cards. They are designed to look like chalkboard art and have a matte texture too, which makes these cards even more unique. The inside is blank, which is perfect for writing your unique, personalized message. This is a huge win for me, since I love writing personal notes.
Infinity Forever Bracelet – Value:  $11.00?
I do not typically wear gold-colored jewelry, but I love the simplicity of this bracelet design. I have tiny wrists and the chain is really long, but due to the teardrop-shaped dangle at the end, I was able to hook the lobster clasp into the smaller chain and still rock it out! It's super cute and converted me over to wearing gold again! (I'm wearing it now, as a matter of fact!)
Totally Adorable Tea Infusers (Squirrel) – Value:  $10.00
Eeep! This little guy is so cute! You stick the loose tea in his tail and turn it to face down to steep in your hot water – and then he perches on the rim of your glass! Aahhhh!!! Seriously cute, seriously awesome. WIN WIN WIN for me!
Our Thoughts
November 2015 Total Value:  $51.50
Based on my estimated prices (most items did not have brands displayed), this box has a HUGE value. My favorite item is definitely the super cute tea infuser! I will either use or regift everything in this package, PLUS repurpose the actual box and tissue paper. For $14.99 per month, I am sold on the quality, selection, and value of the items inside.
Have you subscribed yet? Don't forget to click this link and use the coupon code HOMESPUNPEACH to get your first box 50% off! (That means you'll only pay $7.49!)
---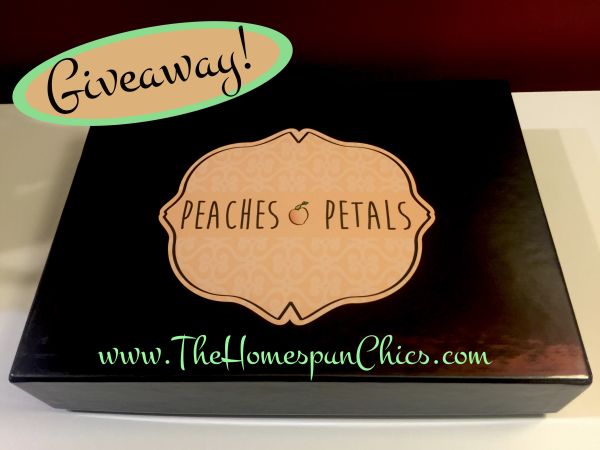 One amazing reader will win their first month's Peaches & Petals Box for FREE!
Contest is open to US 18+ and will end on November 29, 2015 at 11:59 PM EST. No purchase necessary. Confirmed Winner will be contacted by us through email and winner will have 48 hours to respond before a new winner will be drawn. Prize will be fulfilled by Peaches & Petals / Jammin Butter. Only one entrant per mailing address, per giveaway. Enter using the Giveaway Tools entry form below.