Baths are great for relaxing, but they can also help detox your body! Soak away free-radical toxins, and ease your muscles and mind while you are at it. So hang the "Do Not Disturb" sign on the bathroom door, and take some ME time for these awesome DIY detox bath mixes.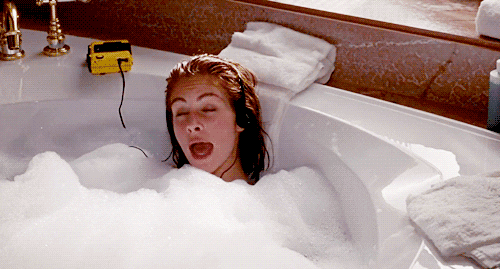 Eucalyptus and vanilla bath salts
(via She Knows)
Ingredients:
1 cup Epsom salt
1/2 cup baking soda
3 drops eucalyptus essential oil
8 drops vanilla in jojoba oil
Green food coloring (optional)
Keep your bath salts in a glass container with a lid, and use about a spoonful per bath.
This mix is great for those looking for an anti-inflammatory, a decongestant, an antiseptic,  a de-odorizing, and something to ease sore muscles!
Rose Milk Bath
(via Hello Glow)
Ingredients:
1 1/2 cups powdered milk (full fat if you can find it, otherwise nonfat will work)
1/2 cup Epsom salt
1/4 cup (or more) dried rose petals
Red food coloring
Rose essential oil
Great for moisturizing dry skin!
Strawberry Bath Soak
(via Crafts Unleashed)
Ingredients:
Epsom Salt
Strawberry Essential Oil
Glass Jar
Red Food Coloring (optional)
Begin by placing some Epson salt into a bowl.  Add a few drops of your fragrance oil and stir.  Keep adding fragrance oil until the salts smell as fragrant as you like.  You only need a few drops for about a cup of salts, so add slowly and carefully.
Lemon-Lavender Bath Detox
(via Mommy Musings)
Ingredients:
1 cup Epsom salt
1/4 cup baking soda
5 drops lemon essential oil
5 drops lavender essential oil
Jar with lid
Get to mixing up your favorite combination, and soak your day away! Enjoy!